American mining company Blockcap announced the purchase of 8,000 devices to mine the first cryptocurrency and plans to deploy 50,000 miners by the end of 2022.
Currently, the company has a fleet of 12,176 devices. It generates over 6.6 BTC daily (~ $ 372,000 at the exchange rate at the time of writing).
In the fall of 2021, Blockcap expects the delivery of Ethereum mining hardware. After commissioning, its total capacity will be 1.229 TH / s.
Blockcap previously raised $ 75 million from Foundry Digital and Off The Chain Capital to expand its Bitcoin mining equipment fleet.
In March 2021, the company became a client of the Foundry Digital mining pool, a subsidiary of Barry Silbert's Digital Currency Group. Blockcap later announced plans to open its headquarters in Texas.
In April, bitcoin miners' commission revenues increased by 47% compared to the previous month – from $ 167.2 million to $ 247 million. Despite this, the total revenue decreased by 3%.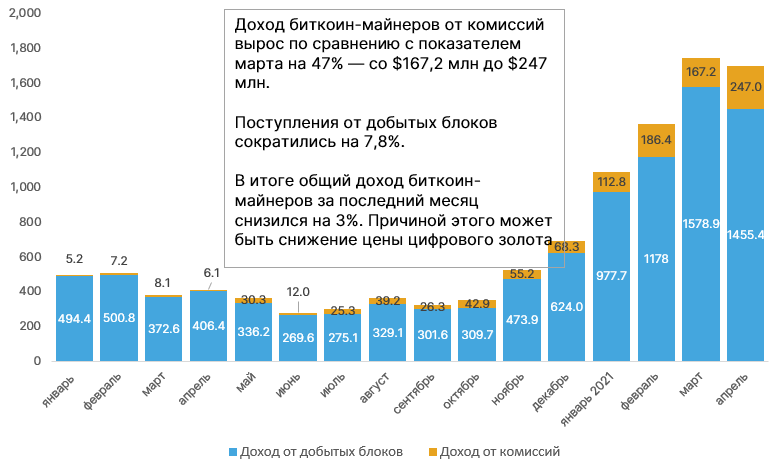 Bitcoin hashrate increased by 8.9% in April. After a drop in the indicator due to blackouts in Sichuan, China, the interval between blocks equaled to the peaks of November 2020.
According to BitInfoCharts, the average block time was over 15 minutes. By the end of April, the hash rate has fully recovered, and the interval has decreased.
Data: BitInfoCharts.
On April 27, Bitmain's AntPool mining pool became the leader in hash rate in a 24-hour time frame.
Stay in touch! Subscribe to Cryptocurrency.Tech in Telegram.
Discuss current news and events at the Forum