[ad_1]

But can illegal payments be returned? There is no definite answer to this question. It all depends on the specific situation, on the method of payment, on the status of the payee. Nobody can guarantee you a 100% refund. And if they say so, then you have
Known links
Notable names
Legal company "Consul" is a gang of crooks. Now we are not talking about those law firms that have chosen the same name and work honestly, but about scammers who own the site consul-lawyers.com. Swindlers pretend to be lawyers and deceive people, promising to help them in their problems. In reality, the goal of the villains is different – to rob customers. But first things first.
E-mail addresses of the project
Attention! scammers very often change the addresses of their scams. Therefore, the name, site address or email may be different! If you did not find the address you need in the list, but the scam is very similar to the one described, please Contact us or write about it in the comments!
Information about the project
The website header says:
Reliable Cybersecurity Partner
Why capitalize every word? But we read further:
Every payment can be tracked. Our experts will help you find the lost funds and return them to their rightful owners.
Hypothetically, it is really possible to track every payment, in practice it is not.
What do charlatans write about themselves?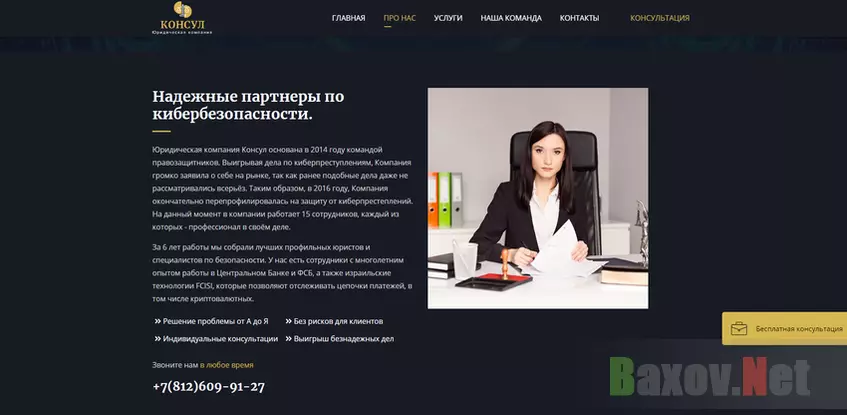 Consul Law Firm founded in 2014 a team of human rights defenders. By winning cases on cybercrimes, the Company has loudly declared itself in the market, since previously such cases were not even considered seriously. Thus, in 2016, the Company was finally re-profiled to protect against cyber-threats. At the moment, the company employs 15 employees, each of whom is a professional in his field.
Neither Google nor Yandex knows something about this "loud" company. We continue to read the legend:
For 6 years of work, we have collected the best specialized lawyers and security specialists. We have employees with many years of experience in the Central Bank and the FSB, as well as Israeli FCISI technologies that allow us to track payment chains, including cryptocurrency ones.
It's ridiculous to read about cryptocurrency. It's no secret that transfers in cryptocurrency are not retroactive. Forcing the owner of the wallet to return digital coins is almost impossible, even if it is proved that he stole them. And the point is not even that law enforcement agencies are not working. The fact is that the blockchain technology itself is built in such a way that there is no leverage on wallet owners. A crook can always transfer money to another anonymous account and say that he does not have access to it. Prove otherwise.
In general, the list of services is extensive: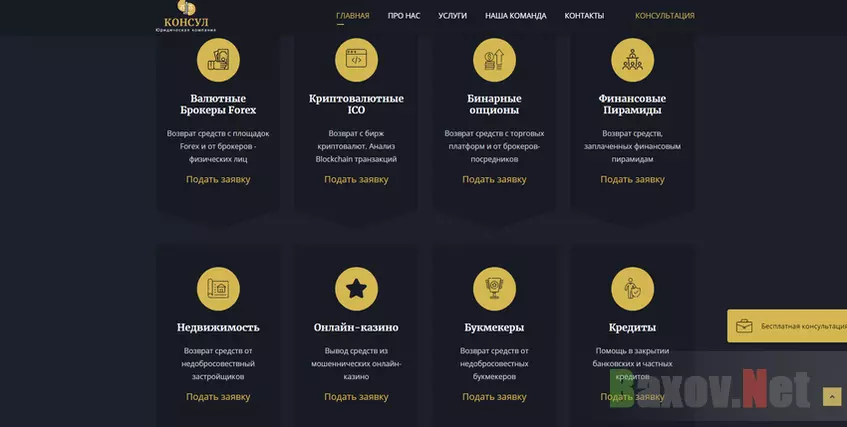 Currency Brokers Forex

Refunds from Forex platforms and from brokers – individuals

Cryptocurrency ICO

Refunds from cryptocurrency exchanges. Blockchain transaction analysis

Binary options

Refunds from trading platforms and intermediary brokers

Financial Pyramids

Refunds paid to financial pyramids

The property

Refunds from unscrupulous developers

Online casino

Withdrawing funds from fraudulent online casinos

Bookmakers

Refunds from unscrupulous bookmakers

Loans

Assistance in closing bank and private loans
Scammers from a pseudo-company "Consul" really understand fraudulent schemes, because they have listed popular types of divorce for money.
To order "services", charlatans offer to write an application, leaving contact information.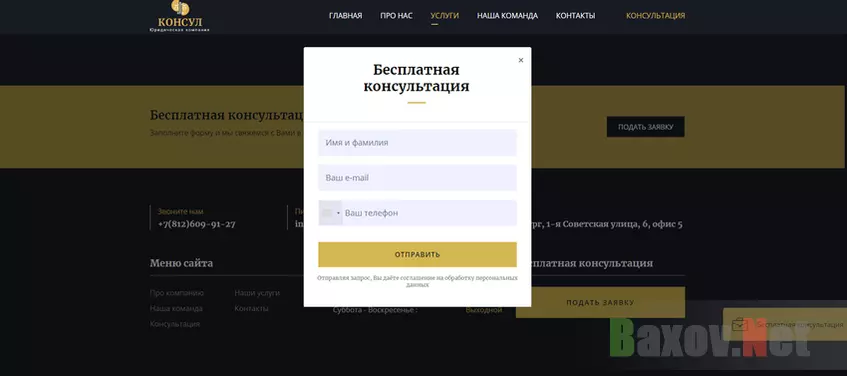 Project contacts
The address: St. Petersburg, 1st Sovetskaya street, 6, office 5 – belongs to a real company
Phone: +7 (812) 609-91-27
Site data:
Domain

consul-lawyers.com

was registered on November 10, 2020
Owner's name is hidden
Exposing the project
I'll start with the simplest thing – details. The scammers claim that they are working legally, so they published some information about their office:
INN / PSRN: 7842459895/1117847379891
The audit showed that such an organization exists. It is really called "Consul" and is located at the address indicated in the section with the contacts of the crooks. Here is just a real law firm does not conduct business activities, judging by the fact that 0 pays taxes, and 1 person is officially registered in the state.
In addition, the real company was registered in 2011, and not in 2014, as it is written in the legend of the scam.
Now let's go over the command. Fraudsters have published photos of employees. Including director Zulfiya Nazarova.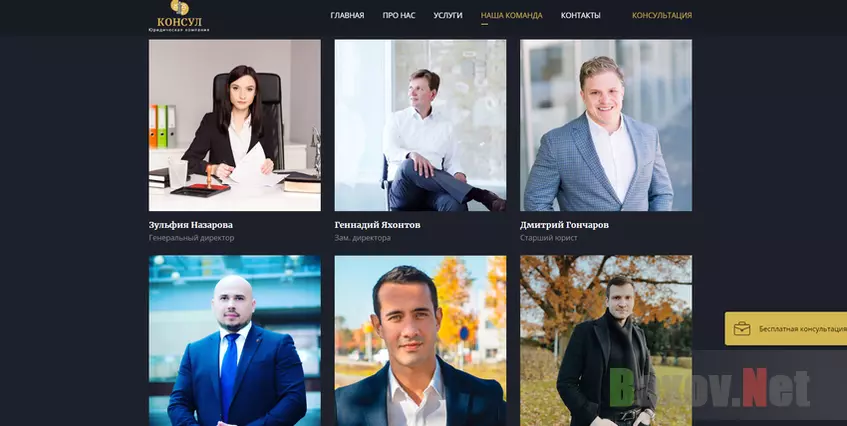 I searched for images through a search on Yandex and Google images. It turned out that pictures have been circulating on the Internet for a long time and everywhere. "Nazarova" can be seen on Avito in advertisements of other legal agencies, and on sites advertising notary services, and even on the site of a psychiatrist. In reality, the photo shows a photo model, a photograph of which can be bought on paid photo stocks.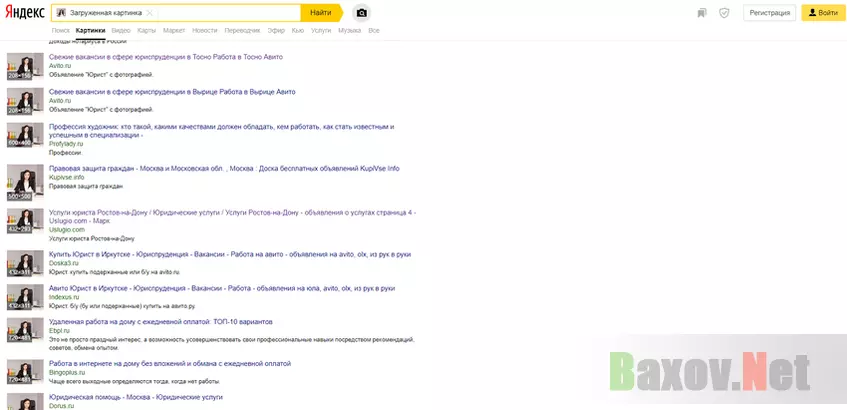 The rest of the photos of the "team of lawyers" also have a rich history. I.e The "team" is fake.
What is the essence of deception? It's easy to guess. Fake lawyers will first actively pretend to be looking for your lost money. And in the process, bred you to pay for some services. For example, they will be asked to pay for the registration of some certificates or nonexistent taxes.
Potential losses on the project
Total: calculation of possible losses on the project – any amount + wasted time.
Conclusion about the project
"Consul" is a gang of crooks posing as lawyers. You can't trust crooks. They will not return your money, but they will steal a certain amount. What if you have suffered from the actions of charlatans? Contact the police. The help of a lawyer will not be superfluous, but you should not contact nouns from the Internet. Better to find a lawyer who has an office and with whom you can talk personally and check his documents.
Take care of yourself and your savings with Baxov.Net
Be sure to read
Life Is Good offers you a unique chance – to learn how to make money, manage your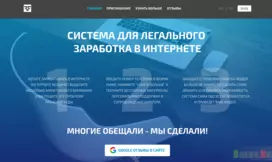 It is possible for everyone to make money on the Internet, but for this you need to attach certain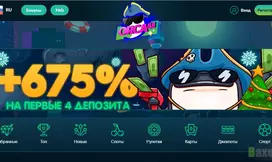 Every day you can see more and more different gambling and gambling establishments on the network. We are talking about
In Russia, casinos of any type are prohibited, but they are still there, only they are registered as "lotteries or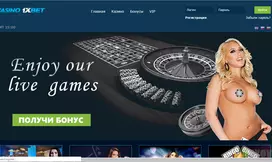 Many of you probably know the 1xbet bookmaker. Amid such popularity, scammers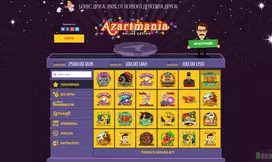 Azartmania is a gaming portal where payments are made in rubles. This is one of the few casinos designed for


[ad_2]

Source link