The inflow of funds into investment products based on cryptocurrencies in January-March 2021 amounted to a record $ 4.5 billion, according to digital asset management company CoinShares.
Compared to the fourth quarter of 2020, the indicator increased by 11%. Then he reached $ 3.8 billion.
In the previous quarter, the rate was 240%. CoinShares did not see this as "a slowdown in the broader trend, as levels of quarterly growth tend to vary."
The largest volume of investments in the first quarter went to products based on bitcoin – $ 3.54 billion; second place belongs to Ethereum with $ 765 million.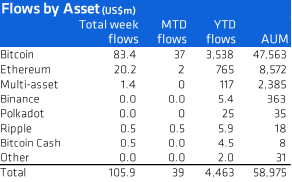 Data: CoinShares.
The total volume of assets under management of funds grew to a record $ 59 billion. A year ago, this value was $ 37.6 billion. Grayscale accounts for $ 46.1 billion of this value, CoinShares – $ 5.1 billion.
Data: CoinShares.
In the report, the firm mentions that the daily trading volume of crypto funds has grown from $ 3.5 billion to $ 11.6 billion, which is 6.7% of the figure for credible bitcoin exchanges.
The share of investments in funds with active management in the last quarter decreased from 3.6% to 1.5%.
The increased focus on passive strategies can be attributed to the launch in Canada of three ETFs from Purpose Investments, Evolve Funds Group, and Mike Novogratz's CI Global Asset Management (CI GAM) and Galaxy Digital.
Recall that proposals to launch a Bitcoin ETF from VanEck, Bitwise Asset Management, Valkyrie Digital Assets, NYDIG and WisdomTree have been submitted to the US Securities and Exchange Commission.
At the time of writing, the regulator has started to consider only the first of them.
Stay in touch! Subscribe to Cryptocurrency.Tech in Telegram.
Discuss current news and events at the Forum