[ad_1]

QubitTech was founded by a group of independent experts in algorithmic and manual methods of asset management, as well as recognized experts in the development and administration of electronic systems with extensive experience in
Project details
Known links
Notable names
Most of the scams on the Internet are created by no-names. Charlatans try to hide their names. But sometimes crooks change their approach to the scam and register companies according to their needs. Such is the nominal official company QubitTech. What are the representatives of this sharaga doing? Supposedly helping people become richer by investing in cryptocurrency. It's funny. Let's take a closer look at this organization and look for tricks.
E-mail addresses of the project
Attention! scammers very often change the addresses of their scams. Therefore, the name, site address or email may be different! If you did not find the address you need in the list, but the scam is very similar to the one described, please Contact us or write about it in the comments!
Information about the project
Let's start with a legend. The About Us page reads:
Development ideology Qubit Tech implies the creation of its own single ecosystem based on quantum technologies, as well as the distribution of platform resources between its users.
Quantum technology? If you are not reading a physics report, but you see this phrase, you should know that there is a 99.99999% probability that you are going to be cheated. Quantum technology is a buzzing term. And all sorts of scammers love buzzwords. But we read further:
The main mission of Qubit Tech is to provide platform members with effective ways to receive rewards and bonuses based on the application of quantum computing, as well as provide access to strategic partners' platforms.
primary goal Qubit Tech – Achieve platform capitalization of 10 billion USDT and increase the user base to more than 10,000,000 users by 2025.
The rogues' plans are ambitious, but a priori impracticable. I'm sure this scam will explode much earlier. What else is there in the legend?
Qubit Tech is already taking advantage of quantum technologies, gaining a significant advantage over competitors, starting to use data from neural networks and the computing power of quantum algorithms. This allowed Qubit Tech to provide more accurate analytical data for creating, configuring and adjusting algorithmic systems, as well as improving the overall efficiency of the platform.
I wonder where did they get the quantum computer? The fact is that they are just beginning to develop and are mainly used in experimental science. Ordinary traders, and even advanced brokers, do not need this technique yet. One conclusion suggests itself: these charlatans do not have a quantum computer.
What offers us QubitTech? As I already wrote, investment in cryptocurrency. The villains offer to buy so-called digital and volume licenses. Prices for digital are as follows: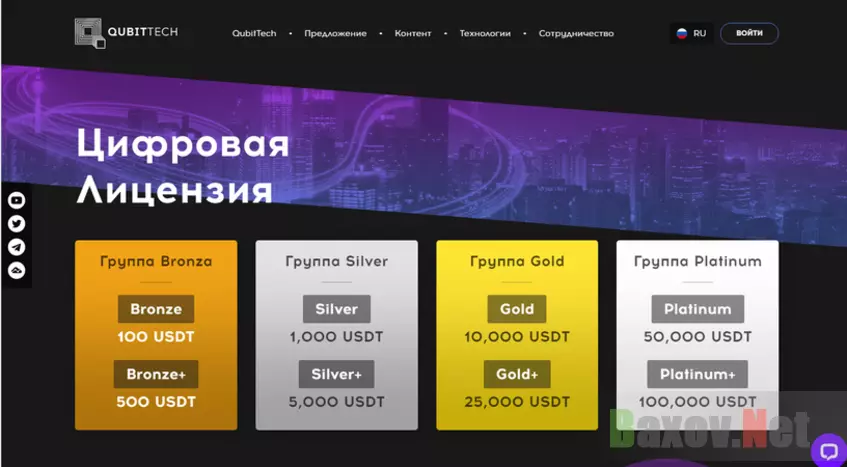 Group Bronza
Bronze:
Bronze +:
Group Silver
Silver:
Silver +:
Group Gold
Gold:
Gold +:
Group Platinum
Platinum:
Platinum +:
What is the profit? 250% of the deposit amount. Oh, those storytellers! ..
Not all volume licenses are available at this time. Only two. But in the future, the villains promise to sell more subspecies. What are the prices?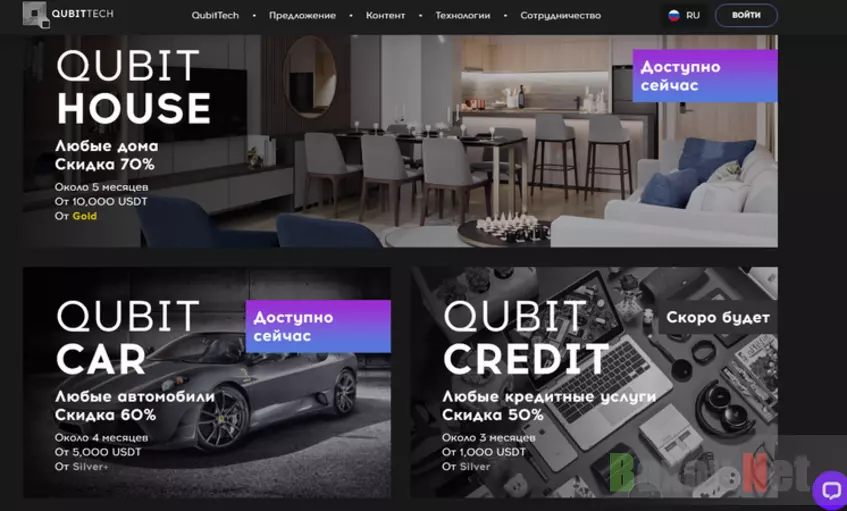 QUBIT HOUSE
Any houses

Discount 70%

About 5 months

From

10,000 USDT
From Gold
QUBIT CAR

Any cars

Discount 60%

About 4 months

From

5,000 USDT

From Silver +
Why are these licenses needed? The site says:
Volume licenses allow platform users to receive the full USDT required to purchase homes, cars, goods or services. The total discount can range from 30% to 70%, and the waiting period is about 1-5 months.
Doubtful statement.
Also on QubitTech there is a multilevel affiliate program. It is built on the principles of MLM (network marketing). As you know, there is a fine line between MLM and the financial pyramid.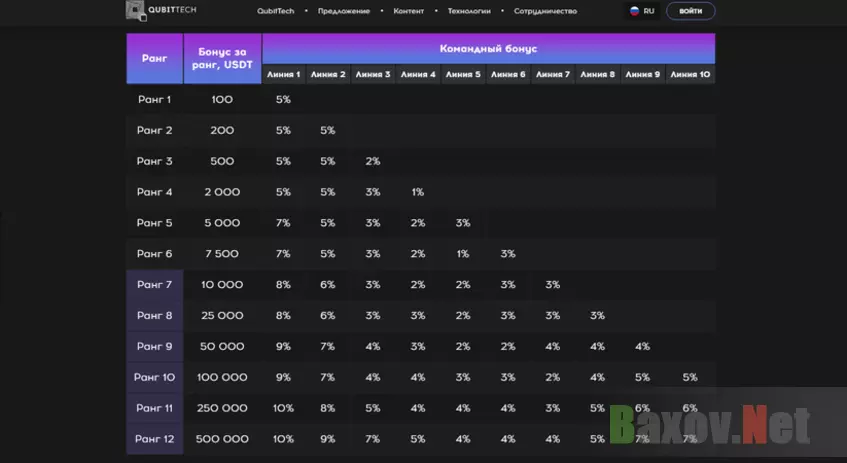 As I already wrote, QubitTech is nominally working officially. The company on behalf of which they do their business is called Qubit Tech OÜ. And in order to find out the name, I had to calculate by address. According to counterparty verification resources, this organization was registered in 2020 and operates in the field of finance. But its authorized capital is only 2,500 euros. Not enough somehow. In the case of a scam, the director will not settle accounts with all clients.
Project contacts
https://www.youtube.com/channel/UCGMOzS35QVCgzAKzdnZsJAw

https://twitter.com/thequbittech

https://t.me/qubittech

https://www.tradingview.com/u/QubitTech

/
The address: Harju maakond, Tallinn Kesklinna linnaosa, Roosikrantsi tn 2-1275, 10119
Site data:
Domain

qubittech.ai

was registered on June 2, 2020
Owner name unknown
Exposing the project
Perhaps it's worth starting with the user agreement. It's in English (not even Estonian). But the documentary is worth reading. I will note right away that Qubit Tech OÜ it is not even mentioned there.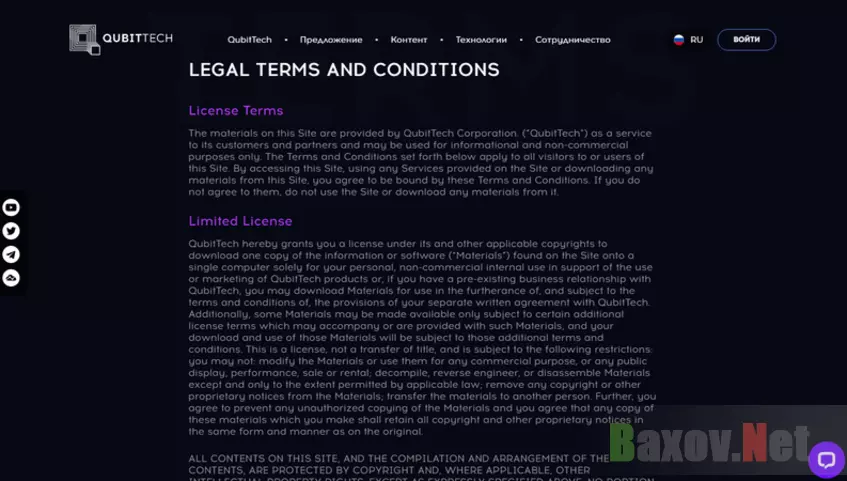 From the very first lines, you can understand that we are dealing with a dummy project. Let me translate the beginning for you:
The materials on this Site are provided by QubitTech Corporation. ("QubitTech") as a service to their customers and partners and can only be used for informational and non-commercial purposes.
How shoud I understand this? Treat it however you like. Besides, what kind of company is this – QubitTech Corporation? Where is she registered and what does she do?
Or here's a quote:
Although QubitTech tried to provide accurate information on the Site, QubitTech is not responsible for the accuracy of any such information.
From guarantees and liability QubitTechnaturally refuses. In addition, the villains warn that they can revoke your license at any time for any reason. On such onerous terms, I am somewhat reluctant to invest money. And you?
What is the essence of the work of this scam? It's simple. Charlatans do not conduct investment activities, but imitate them. As you know, it is impossible to cancel a payment in cryptocurrency. If you demand the return of digital coins, you will simply be sent away. For no one gave you any guarantees.
Is it possible to make money on the project? According to the referral program, the crooks are still paying. Not surprisingly, the internet is full of praise from dishonest bloggers. However, if you do not intend to advertise this project, the chance to recoup your investment is insignificant. If you invest a large amount, then the risk of losing your investment will only increase.
Potential losses on the project
Total: calculation of possible losses on the project – from 100 dollars and higher.
Your losses can be unlimited. Crooks know how to beautifully hang noodles on their ears and drive people into debt.
Conclusion about the project
QubitTech is a dummy company that mimics investment activities… You shouldn't risk your money. The company providing the services does not inspire confidence, and judging by the user agreement, these crooks do not want to bear responsibility for their actions.
Take care of yourself and your savings with Baxov.Net
Be sure to read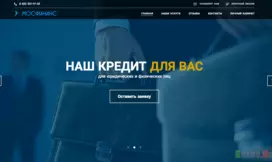 Mosfinance – lending and consulting …
Many people, no matter how much they earn, always lack money. They are used to living on a wide
Further…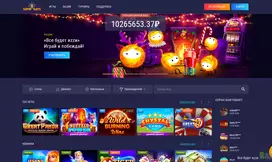 This is Super Slots Casino
Playing in a casino in any form is always something on the edge. The winners will rejoice and
Further…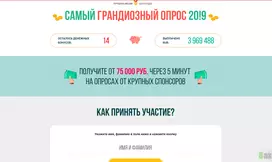 The Most Grandiose Poll, scammers claim that this promotion is the best in the entire 2019. But it is not
Further…
Life Is Good – literate …
Life Is Good offers you a unique chance – to learn how to make money, manage your
Further…
Vulcan Neon casino – club …
The Vulcan Neon casino (or rather its phishing platform) has been cheating people for a long time. Virtual
Further…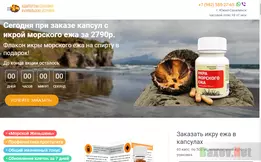 Hedgehog caviar heals everything. Special…
On what they just don't make money … I have nothing against – there is demand – it means there will be supply. A
Further…


[ad_2]