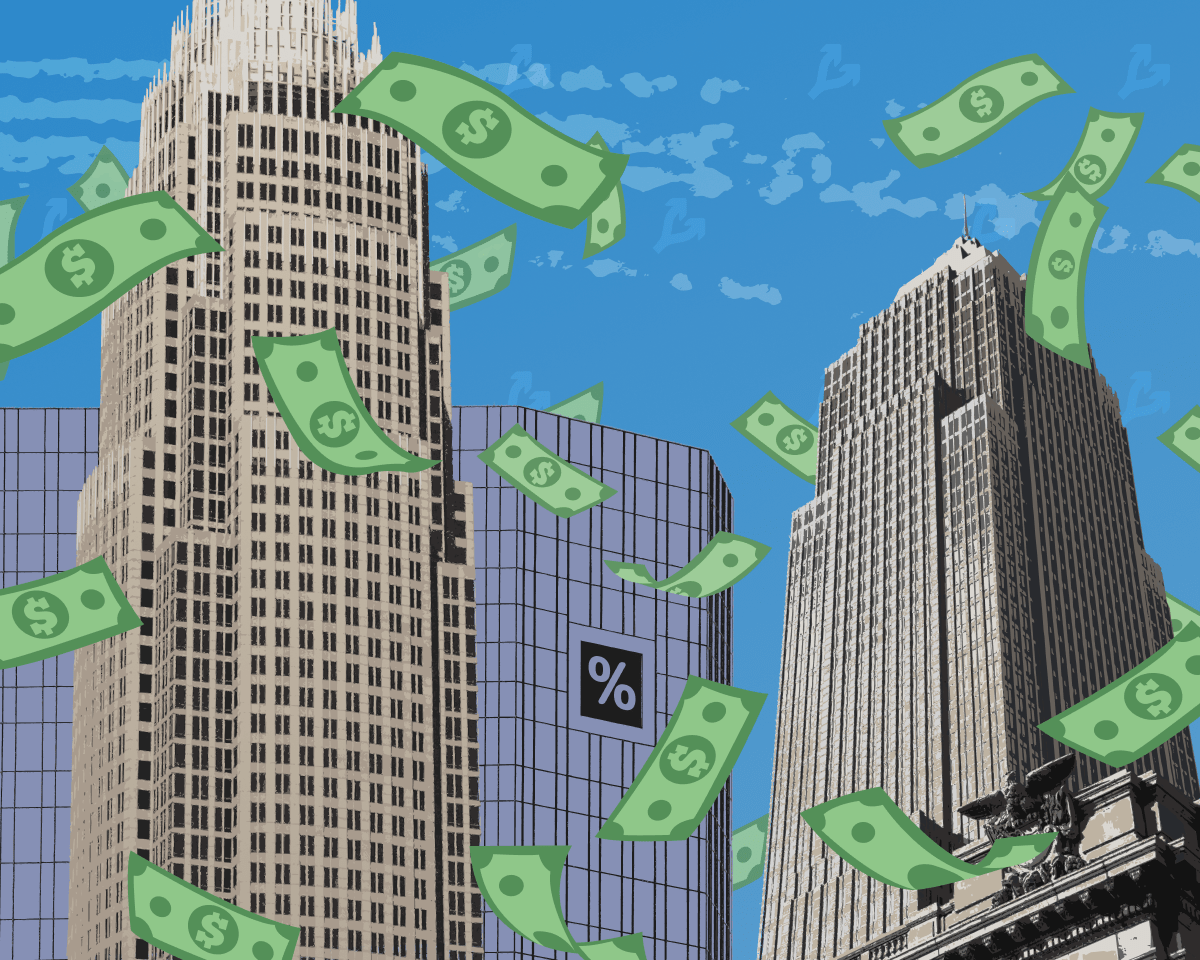 Semantic analysis of publications from 191 central banks revealed interest in blockchain technology among 127 (74%) regulators. As of January 2021, they mentioned it 4408 times. This is stated in a study by the analytical company Mindsmith.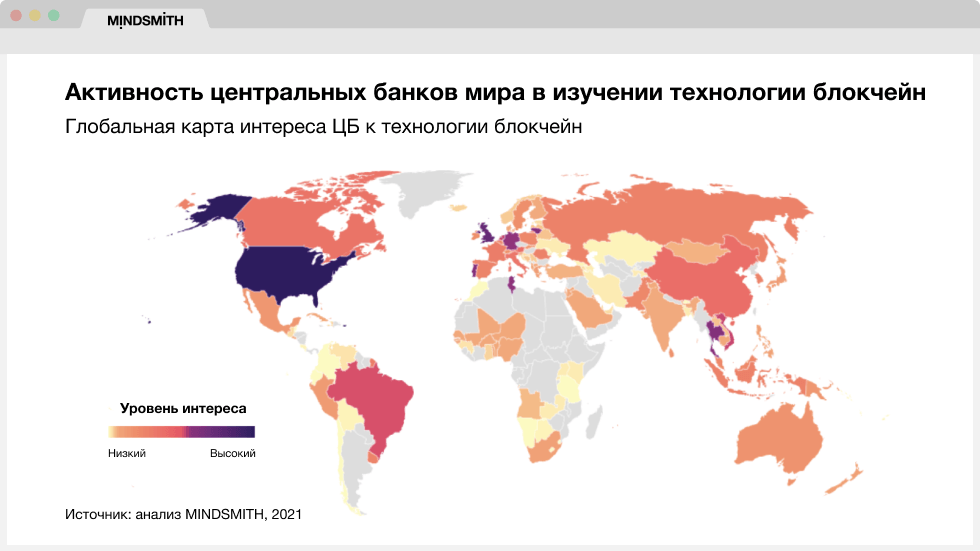 More than half of all blockchain mentions came from nine central banks. The undisputed leaders were the US Federal Reserve System, the Bank of England and the European Central Bank.
The top 10 also includes the Bank of Lithuania, Bank of Portugal, Bank of Thailand, Central Bank of Tunisia, German Federal Bank, and the Monetary Authority of Singapore.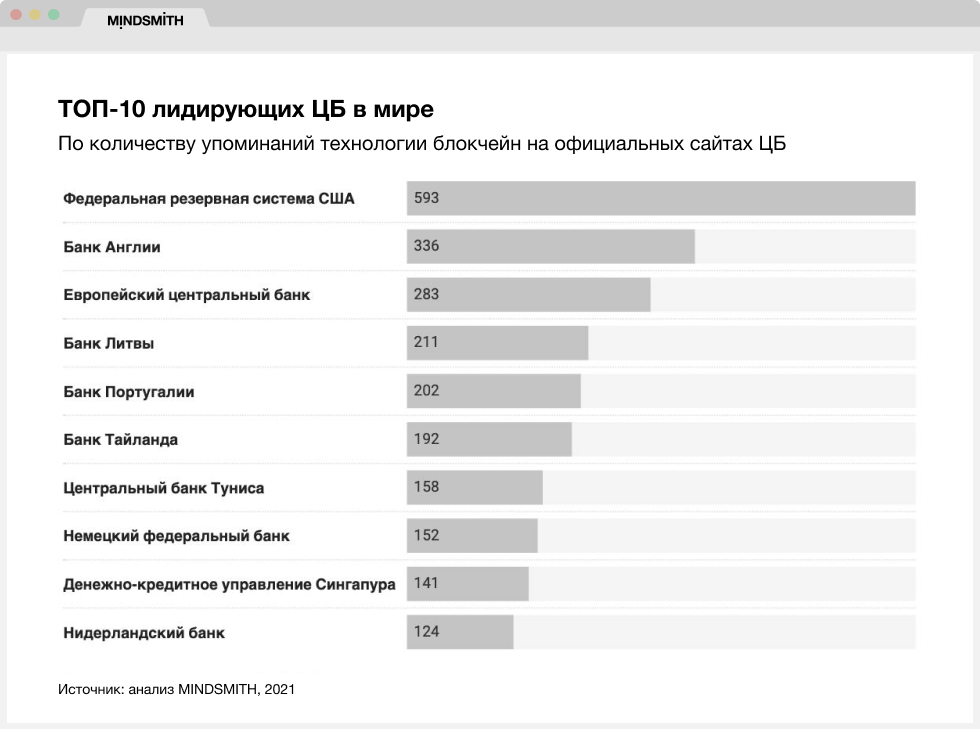 The Bank of Russia is also actively increasing interest in blockchain technology: from issuing mortgages on a blockchain platform to developing the concept of a digital ruble.
Researchers have calculated that in aggregate, central banks that are more or less interested in blockchain technology serve 67% of the world's population and account for about 75% of global GDP.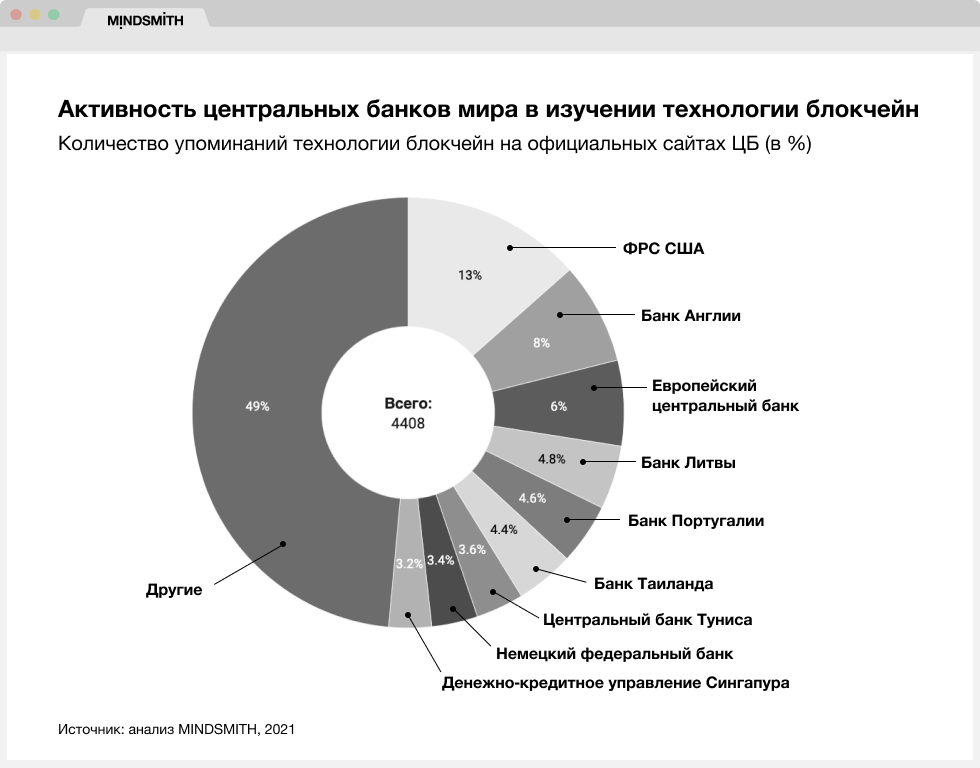 "Blockchain technology and digital currencies are challenging the foundations of the monetary system by allowing people to store, spend and move their savings without relying on national currencies. This poses a significant threat to the role of regulators in monetary policy, and therefore it is not surprising that blockchain projects are gaining strength in central banks, "argues at Mindsmith.
Based on published studies and reports, analysts have identified the main scenarios for using the blockchain by central banks:
Central Bank Retail Digital Currencies (CBDC);
Wholesale CBDC;
Interbank settlement for securities;
Mechanism to ensure the stability of the payment system;
Issue and life cycle management of bonds;
KYC and AML procedures;
Data exchange platforms.
"Blockchain as a universal technology is widely used among central banks. While their key focus is now on CBDC, the potential for blockchain use among central banks lies at the intersection of a number of use cases. For this reason, studying global best practices is the first step in introducing innovative technologies, "said Ruslan Yusufov, Managing Partner of Mindsmith.
Recall, according to an October study by Mindsmith, the interest of global financial organizations in the blockchain is not weakening, but the format of interaction with technology is changing.
Subscribe to ForkLog news on Telegram: ForkLog Feed – the entire news feed, ForkLog – the most important news and polls.
Found a mistake in the text? Select it and press CTRL + ENTER